FOCUS.COREGRAF
MASSIMO GERARDI
24 iulie - 28 august 2017
Focus.Coregraf este un proiect co-finantat de AFCN ce propune directionarea atentiei publicului spectator pasionat de dans contemporan dar si a profesionistilor din domeniu catre o serie de evenimente ce ofera o privire de ansamblu asupra stilului si experientei de lucru a unui coregraf invitat.
EVENIMENTELE
DIN FESTIVAL
Descopera ultimele noastre creatii
Massimo Gerardi, born in Italy, received his first dance training in Udine and later in Reggio Emilia. He began his professional dancing career in 1986 at the Balletto Comunale di Firenze, followed by engagements at Aterballetto, Stadttheater Augsburg and Teatro la Fenice-Venezia and later, as a soloist, at Staatstheater Nürnberg, at Theater Dortmund and Landestheater Linz. 
He danced in choreographies by William Forsythe – Rui Horta – Jacopo Godani - Amedeo Amodio – Giuseppe Carbone – David Sutherland – Gregor Zöllig – Antonio Gomes – Robert Poole - Jean Renshaw  - Martin Stiefermann – Birgit Cullberg – Amanda Miller, among others. 
In 1999 he was selected by Jorma Uotinen for "SiWiC", a coaching project for choreographers in Zürich. In 2000 he attended a dance-for-video course with Thierry de Mey and Philippe Decouflé and received a scholarship for choreographic studies hosting at Icelandic Ballet, Nederlands Danstheater, Göteborg Balletten and Komische Oper Berlin. From 2001 to 2006 he was ballet master and  rehearsal director for the Dance Company at Staatstheater Oldenburg assisting the work of the director and of the guest choreographers.   
He was invited to Theatres or Dance Academies or Univiersities as a guest teacher both in ballet and contemporary dance:  Staatstheater Nürnberg - Staatstheater Braunschweig - Ballett Schindowski - Pretty Ugly Tanz Köln - Stadttheater Brenmerhaven - Conservatory of Dance Prag - ArteZ State Dance Academy-Arnhem – Staatstheater Darmstadt – Galili Dance Groningen - Mainfrankentheater Würzburg – Pretty Ugly Tanz Köln – State Academy for Choreography Bucharest - Theater Münster - Landesbühnen Sachsen - Daegu City Ballet
As a free-lance choreographer he created choreographies for Theater Kiel, Staatstheater Oldenburg, Theater Stralsund/Greifswald, Theater Aachen, Theatre de S. Quentin en Yvelines, Theatre Odeon/Bucharest, Stadttheater Giessen, Theater Bielefeld, Landesbühnen Sachsen a.o. 
In 2006 he co-founded the project company "movingtheatre.de/tanz" based in Köln. His choreographies "Pop Eye" and "Site specific" within this ensemble have been awarded the Dance Prize of Cologne in 2006 and 2009.                                                                                                  
From 2009 to 2011 he has been teaching full time contemporary classes, partnering and improvisation at the University for Music and Dance in Köln. In 2011-2012 he has been guest ballet-master and rehearsal director  at Internationaal Danstheater Amsterdam, in 2012-2013 faculty teacher at Palucca University of Dance in Dresden In 2013/2014 guest Ballet Master at Theater Heidelberg and free lance choreographer. 
From 2014 till recently he collaborated repeatedly with Palucca Hochschule für Tanz, taught as guest teacher and was invited to create pieces for dance companies and academic institutions. Under the label "subsTANZ" he produces his free-lance dance projects. In 2106 guest choreographer for the Lucerne Music Festival and guest teacher at National University of Arts in Seoul. In 2017 Director of the Dance Program at Accademia dell'Arte Arezzo and guest choreographer at Stadttheater Giessen.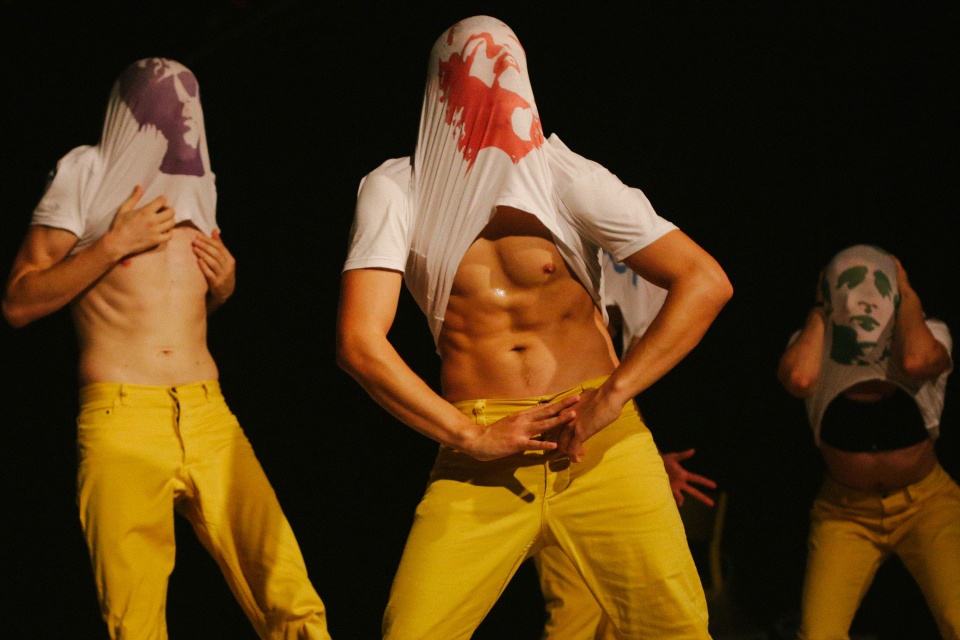 SCURT PREVIEW
AUDITIE
Ultimele momente din workshopul auditie pentru spectacolul Hot Dog